Wisconsin Cheese History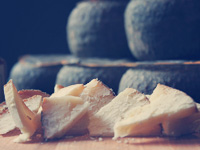 The story of Wisconsin's dairy industry has roots in prehistoric times. Nature set the stage for America's Dairyland during the last Ice Age, when glaciers cut through what is now Wisconsin. As they receded, the massive mountains of ice left behind a countryside of rolling hills and lush pastureland.
Millions of years later, when European immigrants migrated west, they found the nation's heartland, which reminded many of their homelands. Climatic conditions suited farming well, and initially, farmers grew wheat, hops, and other grains. Dairy farming followed naturally, and dairy farmers soon produced an abundance of top-quality milk. To preserve excess milk, farmers made cheese. The move from producing cheese for family use to making cheese to sell was a short step. However, commercial production of cheese in Wisconsin began on a small scale.